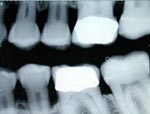 Digital radiography's technology improves and simplifies the way we care for our patients' teeth, resulting in better dental evaluations and treatment decisions.
Traditionally, dentists find out what's going on inside your mouth by taking a series of x-rays, developing them in a darkroom full of chemicals, and then examining the resulting films on a special light board. This cumbersome process is entirely outmoded by digital radiography. Now, you simply relax in the dental chair while a tiny sensor is positioned briefly inside your mouth. The sensor acts like a miniature VCR camera, except that its chip is sensitive to x-rays, not light. Our patients are exposed to 50%-90% less radiation than with traditional x-ray techniques. A highly detailed image is almost instantaneously translated onto our computer screen, carrying with it all the conveniences of other digitized images.
The immediately viewable picture on the computer screen allows us to discuss the findings with you without delay. Together, we can examine the outer and inner structures and tissues of each tooth, as well as the surrounding roots, root canals, and gums. What may have previously been mysterious and frightening is suddenly rendered reasonable and non-threatening. On the spot, we're able to clearly and simply explain all the steps of any recommended restoration procedures. And because it helps you clearly understand the root issues behind your dental health, we're able to work together to determine the very best treatment options for each case.