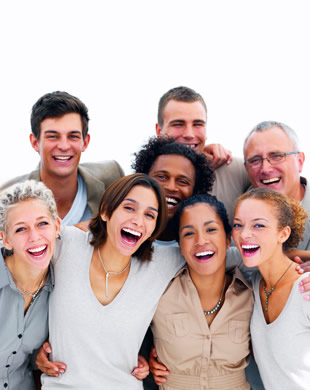 If you'd like to share some kind words and smiles, please ask our front desk staff for a comment card at your next appointment. We'd love to hear about your experience!
---
E Dental Solutions
5 out of 5

based on 9 user reviews.
---
By Anthony
5/5

"BEST Trip to the Dentist EVER! From the front desk to the Dr. Each staff member treated super awesomely and with the utmost professionalism. I'm new to Tucson and got lucky to stumble upon this place. I challenged E Dental with my sticky Insurance details and they worked with me and did all they could to make me feel comfortable and provide me with amazing service. They are in touch with technology (the hygienist showed me hi def pictures of my teeth while she was cleaning them). They provided me with a plethora of information about my teeth and gums far superior to any practice Ive been to. And the cleaning i received was top notch. Im seriously blown away. God bless the office specialist as she did lots of frustrating research with my insurance, yet kept a smile on her face thru the entire process. THANK YOU E-Dental Solutions, you really made my day and earned my business moving forward."

---
By Ken & Margaret
5/5

"Right from our first visit to Dr. Elahe Wissinger, we felt comfortable. We were impressed and encouraged by the fact that Dr. Wissinger spent a lot of time evaluating our present dental condition. This was possible because of her expertise and state of the art dental equipment. In a short period of ongoing visits, major corrections were made in order to save our teeth, and to then have a very healthy mouth. Another very important factor of her office is the energy and competence of her entire staff. We feel so welcomed and well cared for. Going to her office is a "spa-like" feeling because of the presence of a fountain, fireplace, soft chairs, and music. We feel fortunate to have found Dr. Wissinger and her staff. For the first time in our lives, going to the dentist is a most pleasant experience. Thanking you"

---
By Jacqueline
5/5

"From the moment I walked into Dr. Wissinger's office, I knew I was in good hands. Her entire staff was warm and welcoming and it was obvious that they genuinely care about the patients they see. I had taken a fall several months prior and required a bridge on three of my front teeth. I had been given an unattractive false tooth by a previous dentist that did not match the color of my teeth, nor did it fit my mouth correctly. I had gone months without fully smiling and when I did smile, I would cover my mouth with my hand. All of that changed within a week at Dr. Wissinger's office. From the first dental exam to the temporary bridge to the final bridge, my experience couldn't have been better! The process was easy and very fast. I just wish I had found her sooner! Dr. Wissinger made sure the permanent bridge matched my teeth perfectly and the final product looked amazing! My teeth and my smile look even better than before! I smile all the time now and I have received so many compliments on my new beautiful smile! I couldn't be happier with the results! I can't thank Dr. Wissinger and her staff enough!"

---
By Michael
5/5

"I have been a patient of E Dental Solutions since I moved to Tucson in 2006 and I must say when it comes to corrective or preventive oral care Dr. Wissinger and her staff are simply the best. I happen to be a special needs patient and Dr. Wissinger ordered a surgical pillow [at no cost to me] that would make my visits more comfortable and I am very grateful for that. The staff at E Dental are all professionals that treat you with respect and make you feel like you are part of a family. Oh, and did mention there is practically zero waiting time. Dr. Wissinger is also up on the latest technologies in her field. For example E Dental provides a low cost highly accurate oral cancer screening test that is non-invasive, stress, chemical and radiation free and takes about five minutes to complete and the results are immediate. Whether you're a smoker, former smoker or never smoked at all I highly recommend this test because there's nothing like having peace of mind. I highly recommend E Dental Solutions for all of your oral care needs. Yours truly"

---
By Traci
5/5

"Dr. Elle Wissinger is the best! Very Gentle and a true professional! Her office is a one-stop shop for all my family's dental needs. Staff is friendly and knowledgable. I highly recommended E Dental Solutions to all my family and friends!"

---
By Joan
5/5

"Dr. Wissinger is wonderful. I drive an hour each way for her to be my dentist. She is thoughtful, considerate, gentle and very accommodating. I have moved quite a bit in my lifetime (Army brat) and she is the best provider I have ever had. A new neighbor needed a dentist recommendation and I sent him to Dr. Wissinger. She immediately noticed a swelling under his jaw that many other doctors and dentists said was an infected wisdom tooth. She immediately sent him to an oncologist who correctly diagnosed lymphoma. The best."

---
By Deb
5/5

"If you are looking for a dentist who is compassionate, gentle, and exceptional at her job, then you should make an appointment with Dr. Wissinger. I had to have an extensive procedure done on my front teeth and it has been completely painless and truly a work of art. Pam at the front desk staff is courteous and well trained, and Ramona is a wonderful hygienist with great knowledge. Give this office a chance - your teeth will thank you!"

---
By Mary
5/5

"Absolutely the best dentist ever. She's amazing."

---
By Jonathan
5/5

"Gentle and kind staff. Very professional."