VELScope® Oral Cancer Screening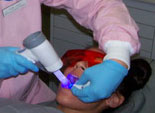 E-Dental Solutions uses VELSCOPE, a revolutionary hand-held device that offers Dr. Wissinger and her staff an easy-to-use adjunctive screening instrument for early detection of soft tissue abnormalities. Its technology platform is based on the direct visualization of tissue fluorescence and the changes in fluorescence that result when abnormal tissue is present. This change is detected by the operator viewing the tissues through a special scope which is not evident under incandescent light.
VELSCOPE is recognized world wide as a major advance in the detection of oral cancer. VELSCOPE provides a more effective oral cancer screening protocol with immediate benefits for you, the patient and the clinician.
Oral cancer refers to cancer of the soft tissues of the lips, mouth, and throat and generally has a poor prognosis, most likely because early diagnosis is difficult, and problems are usually picked up in the disease's later stages.
Statistics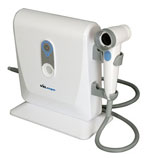 One person dies from oral cancer every hour in North America.
31,000 cases are diagnosed in North America every year. There are 9,700 cases of cervical cancer diagnosed in North America every year.
Oral cancer is the 6th most serious form of cancer.
The mortality rate of oral cancer is twice that of cervical cancer.
There has been a 60% increase in incidence in under 40's in the last 3 decades.
25% of cases don't fit the recognized profile of over 40's, smoking and alcohol
Oral cancer is 90% curable if caught in the early stages